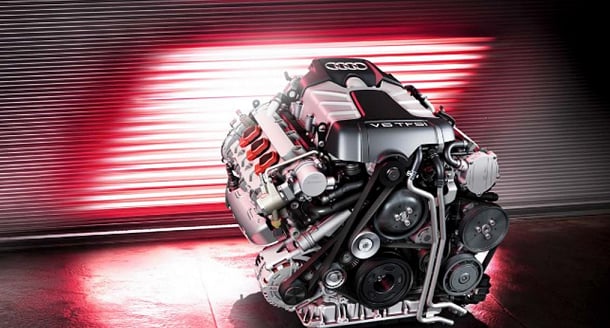 Powering many new Audi vehicles is the TFSI® engine.  The TFSI (Turbo fuel stratified injection) is the world's first turbocharged direct injection engine.  This system produces higher power output and optimum engine response, all while providing greater fuel efficiency and reduced emissions.  
The TFSI engine is available in 
4-cylinder, 6-cylinder, and V-8 variations.  The 2017 Audi A-4 is the first vehicle equipped with the latest version, a 2.0-liter four-cylinder. 
At the top of the TFSI mountain is the 4.0-liter V8, which powers the top-of-the-line Audi A8.  This twin-turbo engine, paired with an 8-speed shiftable automatic transmission, produces an impressive 450 horsepower, and 325 ft-lbs of torque.  This engine is equipped with "Cylinder on Demand" technology, which means that when operating at part load, four of its cylinders are deactivated.  This reduces fuel consumption by an average of five percent.  
Additional features Active Noise Control (ANC) and active engine mounts dramatically reduce noise and vibration in the cars cabin.